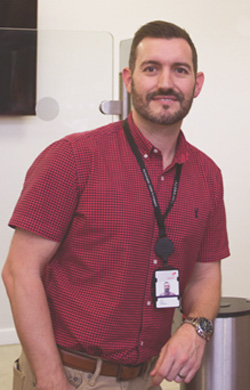 Karl Butler
The initiative was established by Norfolk County Council and the Norfolk Community Foundation earlier this year when it became apparent that Norfolk's schools and academies would need to supply around 6,000 devices to ensure that all young people in the county had access to the equipment and technology to facilitate successful home learning.
Sheringham Shoal Offshore Wind Farm is operated by Equinor and can power over 200,000 homes with renewable energy.
"The Sheringham Shoal Community Fund was established to support projects that would benefit the wider North Norfolk community, and education has always been one of its key criteria," said Karl Butler, the Power Plant Manager of the Sheringham Shoal Offshore Wind Farm.
He continued: "With two young children of my own, I understand the challenges and difficulties which families have endured this last twelve months across the UK. I am therefore delighted that we are able to support the Every Child Online campaign, helping improve access for children to education."
In addition, from May 2020 the Sheringham Shoal Community Fund provided grant funding to the COVID-19 community response fund to support local charities working in North Norfolk to keep vulnerable people safe.
The Sheringham Shoal Community Fund totals £100,000 per annum, and by the end of 2020 it had donated some £,880,000 to over ninety individual projects in North Norfolk since its establishment in 2010.
The wind farm is owned by Equinor, Green Investment Group and Equitix through joint venture company Scira Offshore Energy Limited.